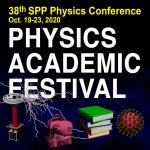 There are many challenges in physics teaching, research, and extension especially during this COVID-19 pandemic. In line with our goal to build a strong tradition and capability in physics, we invite you to the Physics Academic Festival during the 38th SPP Physics Conference.
The objectives of the Festival are:
Promote and advance physics in the country; and,
Open new avenues for students interested in pursuing a career in physics.
During the Festival, various universities will present their physics academic programs and research and, also, share their challenges and strategies in adapting to remote learning.
The Physics Academic Festival is scheduled on Day 1 of the SPP 2020 Physics Conference (20 October 2020 from 1:00PM to 3:50PM). It is open to students, teachers, researchers, and the public.