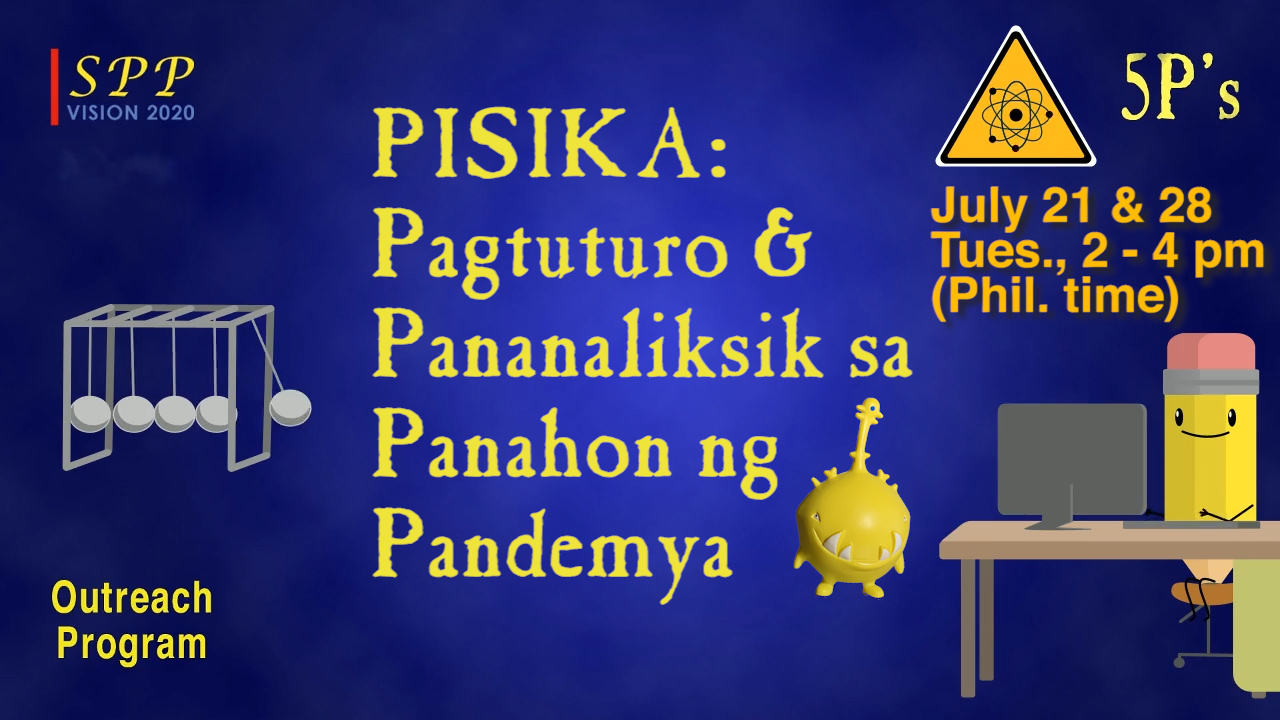 The COVID-19 pandemic has brought Remote Learning to the grassroots level of education in all disciplines including physics. This webinar series aims to start a dialogue on remote learning in physics and document the challenges and best practices from stake holders.
Webinar I: Course Packets (Pre-semester preparations) (Pt 1, Pt 2, Pt 3)
Webinar II: Flipped Classrooms and Remote Learning (Pt 1, Pt 2)
Webinar III: Establishing the Student-Teacher Relationship (Pt 1, Pt 2)
Webinar IV: Lab skill sets, thesis, mentoring, and remote collaborations (Pt 1, Pt 2, Pt 3)
During the webinars, the following panel members will share their unique experiences and challenges related to remote learning and describe how they overcame these challenges.
Webinar I: July 21 (Tuesday, 2pm-3pm)
Ivan Culaba, AdMU
Jacque Lynn Gabayno, Mapúa University
Maria Veronica Torralba, PSHS
Cristine Villagonzalo, NIP UPD
Percival Almoro (Moderator, SPP)
Webinar II: July 21 (Tuesday, 3pm-4pm)
Jose Perico Esguerra, NIP UPD
Jo-Ann Mesias, Bicol University
Romeric Pobre, DLSU
Reinabelle Reyes, Science Says, Knowledge Channel
Rhenish C. Simon, UPM and Pueblo Science PH
Percival Almoro (Moderator, SPP)
Webinar III: July 28 (Tuesday, 2pm-3pm)
Eduardo Cuansing, UPLB
Sarah Johnson, UPM
Jae Lord Dexter Filipinas, MSU Marawi
Sheryl Lyn C. Monterola, UPD
Giovanni Tapang, NIP UPD
Percival Almoro (Moderator, SPP)
Webinar IV: July 28 (Tuesday, 3pm-4pm)
Cesareo Bermundo, ScienceStar Corporation
Eric Galapon, NIP UPD
Giovanni Malapit, UPB
Arnel Salvador, NIP UPD
Vallerie Ann Samson, PNRI
Percival Almoro (Moderator, SPP)