39th SPP Physics Conference | Online
Accelerating national progress via physics: From quantum to stellar and beyond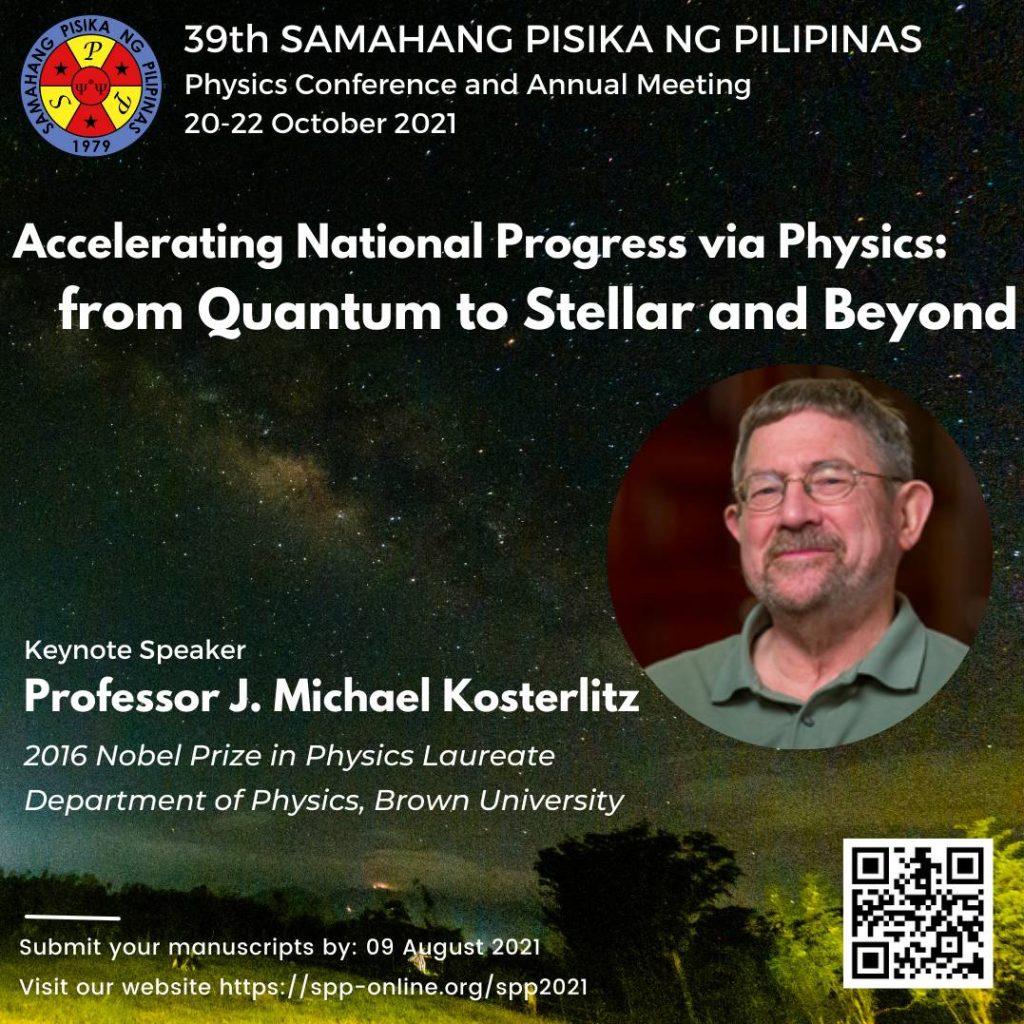 About the Keynote Speaker
J. Michael Kosterlitz is a theoretical physicist recognized for his work with David J. Thouless on the application of topological ideas to the theory of phase transitions in two-dimensional systems with a continuous symmetry. This work was recognized by the Lars Onsager prize in 2000, membership in the AAAS 2007, by the 2016 Nobel Prize for physics, and election to the NAS in 2017. He graduated from Cambridge University earning a BSc in Physics in 1965, an MA in 1966, and received a D. Phil. from Oxford in 1969. He was a postdoctoral fellow at Torino University, Italy, in 1970 and at Birmingham University, U.K., from 1970-73. There he met David Thouless and together they did their groundbreaking work on phase transitions mediated by topological defects in two dimensions. He was a postdoctoral fellow at Cornell in 1974, on the faculty at Birmingham 1974-1981 and Professor of Physics at Brown University 1982 up to the present.
The 39th Samahang Pisika ng Pilipinas Physics Conference and Annual Meeting will take place from 20 to 22 October 2021.
Conference Days:
20-22 October 2021
Submission Deadline for Papers:
9 August 2021
Editorial Decisions:
September 2021
Keynote Speaker

J. Michael Kosterlitz, 2016 Nobel Prize Laureate in Physics
Invited Speakers
Maxwell Amurao, Washington University in St. Louis, USA
Epifanio Bagarinao, Nagoya University, Japan
Katherine Bagarinao, National Institute of Advanced Industrial Science and Technology, Japan
Maria Vanessa Balois–Oguchi, RIKEN Center for Advanced Photonics, Japan
Aparna Baskaran, Brandeis University, USA
Reginald Bernardo, University of the Philippines Diliman
Juan Felipe Carrasquilla, Vector Institute for Artificial Intelligence, Canada
Clare Escaño, University of Fukui, Japan
Marvin Flores, University of the Philippines Diliman
Muneaki Hase, University of Tsukuba, Japan
Daniel Kennefick, University of Arkansas, USA
Ondrej Kitzler, Macquarie University, Australia
Bum-Hoon Lee, Sogang University, Korea
Christopher Monterola, Asian Institute of Management
Marie Paz Morales, Philippine Normal University & National Research Council of the Philippines
Sithi Viniyakam Muniandy, University of Malaya, Malaysia
Karim Omambac, Universität Duisburg-Essen, Germany
Helen Pask, Macquarie University, Australia
Uzziel Perez, University of Alabama, USA
Kurunathan Ratnavelu, University of Malaya, Malaysia
Dominik Safranek, Center for Theoretical Physics of Complex Systems, Korea
Maryrose Salvador, Pueblo Science & University of Toronto
Edward Carlo Samson, Miami University, USA
Haibin Su, Hong Kong University of Science and Technology
Juzar Thingna, Center for Theoretical Physics of Complex Systems, Korea
Michele Vallisneri, Jet Propulsion Laboratory & California Institute of Technology
Matthias Vojta, Technische Universität Dresden, Germany
Bo Yang, Nanyang Technological University, Singapore
Registration for SPP2021 will open by September 2021.
Please bookmark this page for updates.