The MVCB Research Fellowship was established to honor the memory of Maria Victoria Carpio-Bernido. The Fellowship is open to applicants of any nationality.
The MVCB Research Fellowship is partly designed to provide young Ph.D.s or faculty members leave time to do more research outside of their regular university environment, create research activities outside of big cities, and impact young minds and inspire the next generation by exposing them to young scientists.
The venue will be at the Central Visayan Institute Foundation, Jagna, Bohol.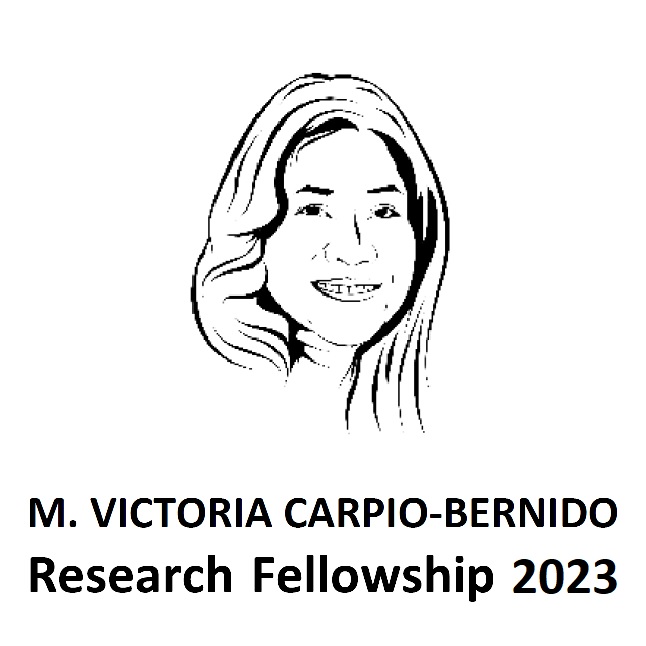 DURATION: One Year
START DATE: 6 January 2023
REQUIREMENTS:
Has obtained a Ph.D. or doctoral degree in the sciences within the past 4 years.
Curriculum Vitae with a list of peer-reviewed international scientific publications.
Application letter stating the type and outline of his or her own research to be conducted or written for publication.
Two recommendation letters sent directly to: cbernido.cvif@gmail.com.
Willing to teach one subject in research or the sciences in the Senior High School of the Central Visayan Institute Foundation (CVIF), Jagna, Bohol, Philippines. The CVIF-Dynamic Learning Program (DLP) using Learning Activity Sheets is applied in all subjects (see, e.g., E-learning at cvifbohol.com).
RESEARCH:
To spur and spread research activities outside of the major cities in the Philippines, the CVIF created the Research Center for Theoretical Physics and the JAZC Marine Sciences Laboratory as jump-off points for interdisciplinary research (see, e.g., Research Centers at cvifbohol.com). The CVIF is also the home of the CVIF-Dynamic Learning Program (DLP) which has been implemented in hundreds of schools all over the Philippines at the elementary, high school, and university levels. The CVIF-DLP has been a research topic of many graduate dissertations in the past.

A Research Fellow will receive a monthly stipend of PhP 50,000 plus free lodging.

Recent CVIF Publications:
1) A. R. B. Elnar, et al., Climate Dynamics 57, 2701 (2021).
2) K. M. Gerodias, et al., Physica Scripta 96, 125038 (2021).
3) J. L. Soria, et al., Philippine Journal of Science 150, 997 (2021).
VENUE:
The small coastal town of Jagna in the island province of Bohol is situated at the northern part of Bohol Sea which has been considered by some marine biologists as the center of the center of biodiversity. About 200 km from the eastern edge of Bohol Sea is the Philippine Deep (depth ~10.5 km), and roughly 250 km from the western edge is the Tubbataha Reefs (UNESCO World Heritage Site). Bohol island is known for its white beaches, snorkeling and diving sites, the Tarsier, Chocolate Hills, scenic rivers, as well as its rich cultural and historical heritage. The town of Jagna has a port which connects it to several neighboring provinces by sea. Jagna is 74 km (1.5 hrs drive) from Panglao International Airport in Bohol. There are several direct daily flights from Manila to Panglao, and ferries from Cebu to Tagbilaran (63 km from Jagna). Manila and Cebu are international gateway cities.
APPLICATION:
The deadline for application is on 30 September 2022. The successful applicant will be notified early November 2022. Applications may be submitted online to: cvif.jagna@gmail.com or cbernido.cvif@gmail.com.
SCREENING COMMITTEE MEMBERS:
Benjamin Rubin, PhD, University of California, Berkeley
Hyunjin Shim, PhD, Ghent University Global Campus
Janneli Lea Soria, PhD, CVIF
Ronald Lloren, ETH, Zurich
Christopher C. Bernido, PhD, CVIF (Chair)
CONTRIBUTING TO THE FELLOWSHIP:
The Fellowship's long term sustainability would be greatly helped by like-minded individuals and institutions. For those interested, this may be done through contributions and donations channeled through the Central Visayan Institute Foundation Inc. Landbank account. Please send an email to cvif.jagna@gmail.com with subject: MVCB Fellowship to request for bank transfer details. An official receipt will be issued to contributors.